Our path towards sustainability.
As a family business, MONTAPLAST has always felt responsible for creating a sustainable behavior towards humans and the environment. With global challenges increasing, climate change is a topic everywhere. Either our neighboring forrest, rising international crisis, or fast increasing requests on mobility, change is all around us. This is, what keeps us innovative and encourages us to expand our sustainability goals.
The current MONTAPLAST report 2022 has been published recently. It highlights already achieved goals and shows further action items as well as future milestones.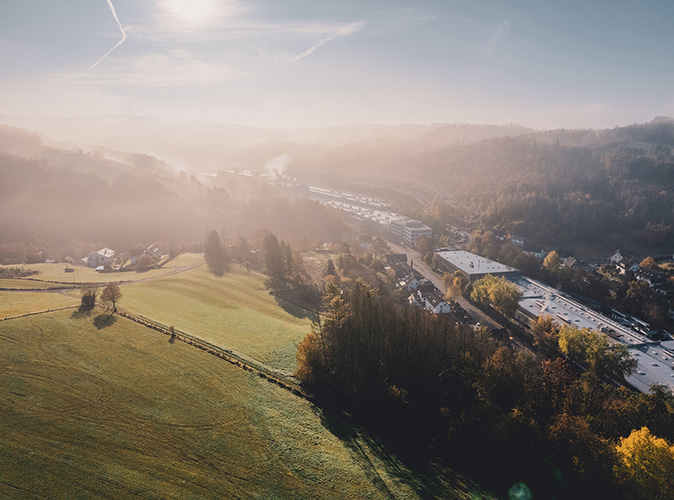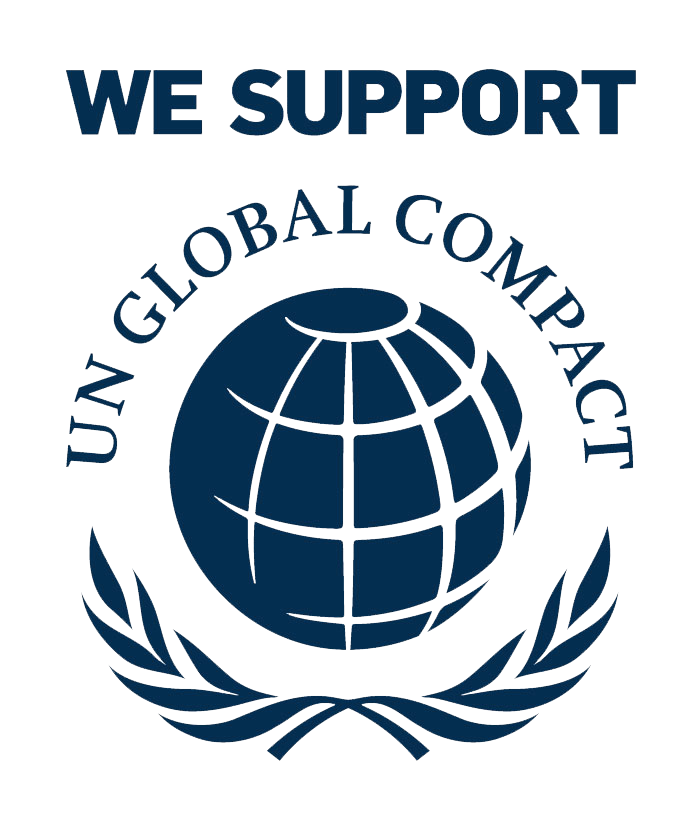 MONTAPLAST is participating in the UN Global Compact initiative. An initiative for companies to align strategies and operations with principles for human rights, labor, environment and anti-corruption, and to take actions that advance societal goals.
For the employees of MONTAPLAST, acomplishing the ten principles of the UN Global Compact is not a task but our commitment. Caring for human rights as well as corruption prevention is our second nature and our labor standards are on the highest level.
Un
Global
Compact
Social issues and environment.
Sustainability ranks high, concerning our innovative plastic solutions for the automotive sector. Our technologies are actively contributing to dealing with the changing climate. We follow our EMS system and are currently certified to DIN EN ISO 14001.
Reducing the burden on the environment - that's what many of the techniques used by MONTAPLAST are all about:
When interior components are back-molded directly, adhesives are saved. When nanotechnology-based plastics are used or multiple functions are integrated into components, weight is reduced. When automotive parts are designed to be recyclable from the start, disassembling later will be more easily done in a more environmentally friendly manner.

Thus, the use of advanced techniques is an investment for the future. We live up to this in all 4 production areas, as the following examples show.
Chassis
More lightweight, more efficient, more innovative: thanks to our light weight plastic solutions, weight and therefore emissions are reduced
Engine/POWER
Regardless of the transmission: MONTAPLAST engine solutions reduce fuel consumption and threfore CO2 emissions thanks to their low weight and optimum air distribution.
Exterior
Resource-saving painting: starting in 2002 we finish our plastic parts with water-based paint systems to become more environmetally friendly. Our advantage: less impact on the environment due to reduced solvents. Since then, the coatings used have been continuously optimized in order to reduce paint sludge, for example.
Interior
Our direct connecting techniques for components in the interior area save adhesives.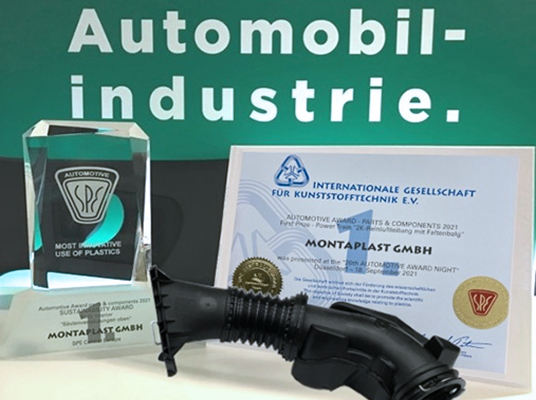 1. Place Air Intake
The clean air duct with bellows, produced in series for the first time in 2021, ensures significant savings in production and space, due to the modern injection molding process with a downstream hot welding process. The bellows with overmolded support rings is produced by a two component injection molding process. For the first time, this could be produced by an index plate mold, with four horizontally rotating. Therefore the de-vice, which originally had ten components is upgraded into a one-piece component. It can now be produced in a space-saving manner for the engine area. In addition, the compo-nent can be recycled more easily at the end of its service life.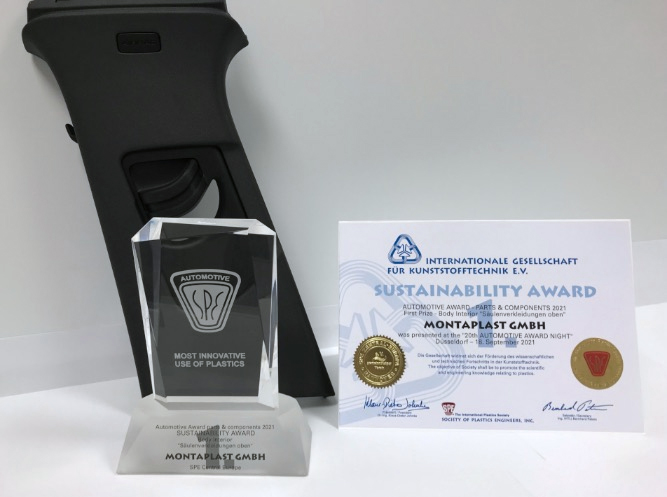 1. Place Pillar Trim
We are particularly proud of projects such as the new pillar lining for AUDI Q6 Etron, which is produced of 100% recycled PET bottles. In 2021 MONTAPLAST received the SPE Award 2021 for sustainability for this project.
OUR GOALS.
Short term
Less scrap in general; increased rate of recycling of remaining scrap.
Increasing the amount of products manufactured of recycled raw materials.
.Use of a photovoltaic system to reduce our base load.
Long term
The used plastics are >50% of sustainable materials – Focus recycling.
Carbon neutrality of all energy we use and emissions we produce (Scope 1 & Scope 2) until 2030.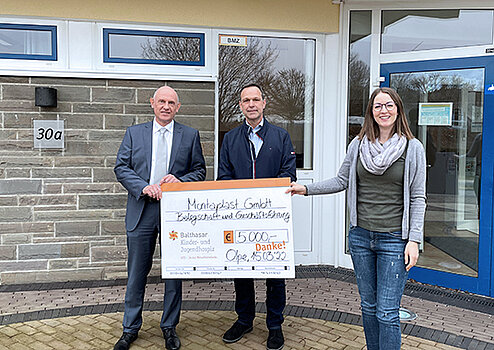 Kinder- und Jugendhospiz Olpe
In our social commitment, we also focus on our roots and support regional initiatives and institutions, such as the children's and youth hospice in Olpe, the Morsbacher Heimatverein and local schools.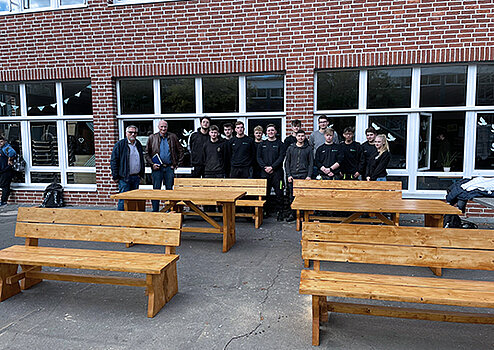 IHK Azubi Social Day
In 2022, our industrial and commercial trainees didn't think twice when asked if they would like to participate in the "Azubi Social Day" (IHK initiative). The Leonardo da Vinci School in Morsbach has since been presented with newly painted break benches. At the elementary school in Morsbach, we were able to equip the gardening group with 2 new raised beds.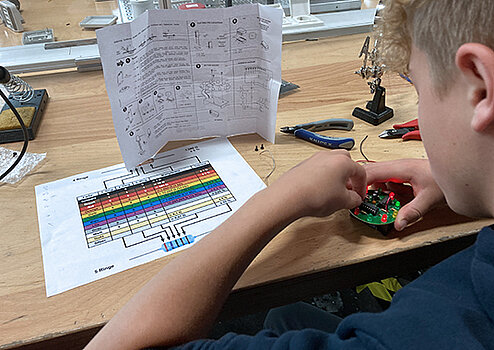 Initiatives and actions
In addition, we are involved throughout the year in initiatives such as "Stadtradeln" or "Kein Abschluss ohne Anschluss (KAoA)" of the state of North Rhine-Westphalia, a career orientation program for school students in which we have been actively involved for years.
Would you like to learn more about school projects, Girl's Day or other activities?
Please contact us!