Quality­management
for highest
demands.
Precision plastic systems from MONTAPLAST must meet the highest standards of modern technology. This cannot be achieved without corresponding demand of quality management. At MONTAPLAST, a large team ensures that our products meet all requirements in quality assurance, metrology and the laboratory.
In addition, we use various surface measuring devices and an optical system for precise, three-dimensional deformation examination.
Our in-house testing center for materials and coatings provides us with a wide range of high-tech equipment. This testing center allows us to perform customer-specific tests and analyses almost without exception; Product resistance to various media and environmental influences, paint adhesion, as well as extensive chemical and physical material analyses on the product and on raw materials.
Therefore, every single MONTAPLAST Zukunftsformer has the permanent duty to keep an eye on our most important asset - quality.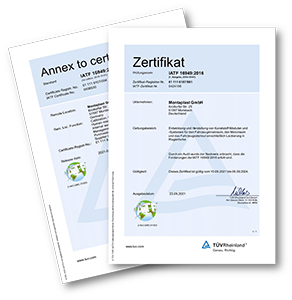 MONTAPLAST is internationally certified with IATF 16949 and satisfies the DIN EN ISO 9001 Norm requirements. Additionally, we perform an energy management system according to ISO 50001.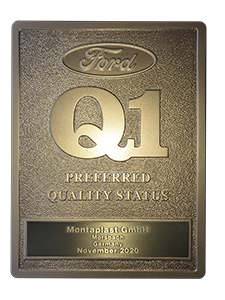 As a supplier in the demanding automotive industry, we also repeatedly achieve very good ratings, have "Preferred Quality Status" and have been able to earn numerous other awards. We are proud of these achievements - but we do not see quality as a static state, but work on its continuous improvement.