Innovative plastic solutions.
Sustainability is also at the forefront of our innovative plastic solutions for the engine bay.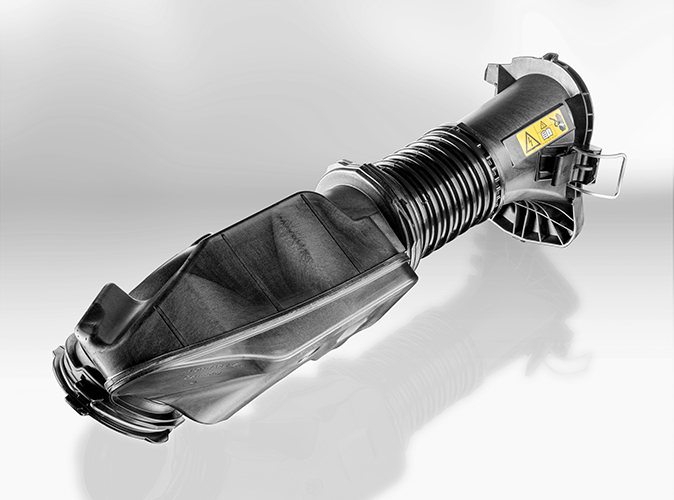 Air induction systems
MONTAPLAST air induction systems e.g. allow flow-optimized air shroud. Thanks to a high-pressure air duct behind the turbocharger, the combustion air is distributed evenly to the cylinders, which leads to a reduction in fuel consumption. This in turn results in CO2 reduction.
Our air induction and filter systems are highly integrated functional parts that are built into automated manufacturing processes.
MONTAPLAST 2021 also received an SPE Award for the manufacturing technology of the M254 low-pressure side air guide (low pressure drop).
Integrated Flex-part (multi component injection molding) for tolerance compensation in the vehicle.
INVERTER- and BATTEry BOXEs (DCDC-BOX)
There is no e-mobility without an inverter or battery box. These special plastic-based components with integrated modules for control units and power electronics are manufactured at MONTAPLAST in just a few production steps using "one-shot" injection molding (function integration from a single mold). This has a big advantage compared to metal-based versions, as we are able to save significant weight and therefore support de-carbonization and considerable increase in range.
Module for e-mobility
Lightweight construction – Substituting metal by plastics
Fulfillment of costumer requirement specifications