Awarded
high class
products.
MONTAPLAST delivers high-end products on the highest quality level. That is why we supply all German premium manufacturer for decades and will keep doing so.
Awards such as the "Preferred Quality Status" by Ford, last achieved in 2020, mirror our quality claim and encourage to pursue our track record, even further.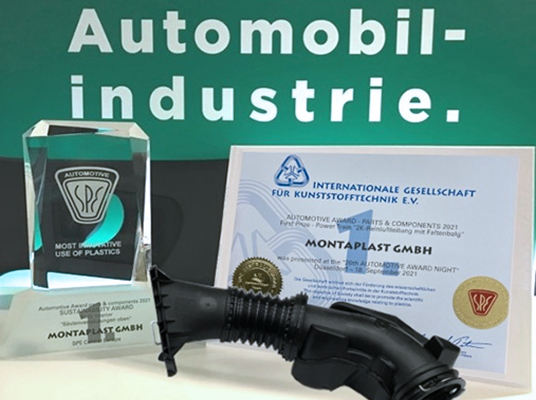 Award:
1. Place Air Intake
The clean air duct with bellows, produced in series for the first time in 2021, ensures signif-icant savings in production and space, due to the modern injection molding process with a downstream hot welding process. The bellows with overmolded support rings is produced by a two component injection molding process. For the first time, this could be produced by an index plate mold, with four horizontally rotating. Therefore the device, which originally had ten components is upgraded into a one-piece component. It can now be produced in a space-saving manner for the engine area. In addition, the component can be recycled more easily at the end of its service life.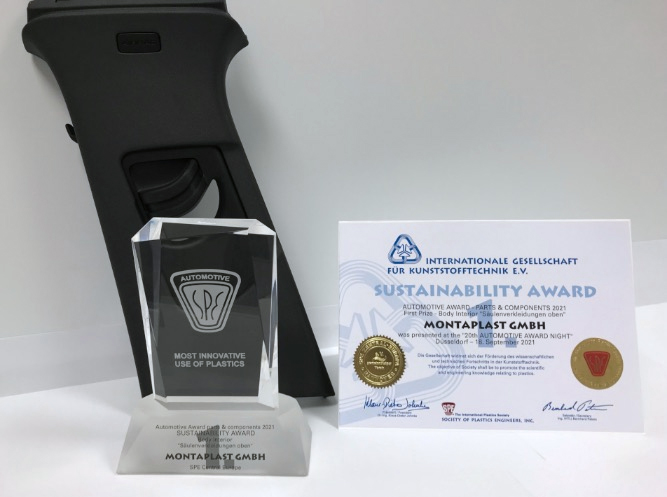 Award:
1.Place Pillar Trim
We are especially proud of new projects including the new AUDI Q6 Etron trunk cladding, which is built out of 100% recycling material. In 2021 MONTAPLAST therefore has been awarded with the SPE Award for Sustainability.